((I hope you guys enjoy this. I tried going with a more informal style of reviewing, like it was your friend telling you why you should see this, instead of just going down the list of pros and cons of the show. While I may be biased towards this show (hence the lack of any true criticism of it), I promise it's worth your time. I can't praise it enough, and I hope my passion for this show is revealed through my review of it, and that it will make you want to go watch it ASAP.))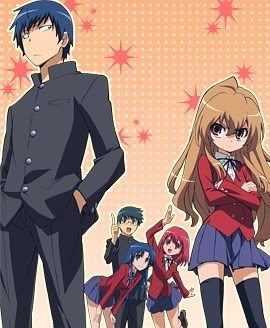 Okay, stop me if you've heard this scenario for an anime: "There's a guy and a girl. The guy likes the girl's best friend, and the girl likes the guy's best friend. The two therefore join forces to help each other win their respective friends' hearts, when in reality the two are really meant to be with each other, and it takes most of the show to realize that." Sounding familiar yet? This is, in woefully simplistic layman's terms, the plot of
Toradora!
, which is based off of a series of light novels written by Yuyuko Takemiya, and produced by anime studio J.C. Staff, the team behind
Ookami-san to Shichinin no Nakama-tachi
and this summer's most bombastic
Highschool of the Dead
. The story revolves around Ryuuji Takase, whose fierce-looking demeanor has ensured he remains single throughout his high school career, although he's the most domesticated guy in the world (his hobbies include cooking, cleaning, and looking after his floozie hostess mother), and Taiga Aisaka, an uber-petite spitfire who is the most pristine example of tsundere that anime has given us since Naru Narusegawa, thus earning her the catchy nickname of "Palmtop Tiger" by the student body. One day, a big misunderstanding betwixt the two (don't these shows always start out with a misunderstanding?) concerning a love letter leads to them allying with each other to win over each other's best friend; for Ryuuji, that's Taiga's friend Minorin, a slightly left-of-center in the head girl and a killer athlete, and for Taiga, it's Ryuuji's buddy Kitamura, the dependable student council vice-president and all-around nice guy and everyman. The deal thus struck, the plot unfolds with your usual assortment of episodes expected of a teenage rom-com, with romantic complications an inevitability.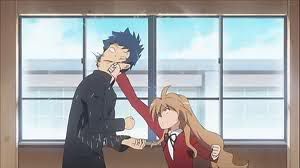 So, what makes this, high school romantic comedy #5,742, better than all the others, and thus worth your time? Three things: depth of characters, plot, and superb writing. This is probably the most tightly written series to grace the genre, with every scene contributing in some way to the advancement of the story; in fact, the parts that don't add something worthwhile can be measured in minutes, not entire episodes. Every conversation between characters also reveals something about those people, making it easy for anyone to identify with at least one character. The reactions that the cast have are believable, spontaneous, and most importantly, feel real to the viewer, so much so that it's quite easy to rejoice along with them in their triumphs and mourn with them over their grievances. Lay the overused premise aside that's used to set up the story, and you can imagine this happening in any typical high school in real life.
As for the episodes themselves, the series isn't without its fault of reusing common themes. There's the pool episode, the beach episode, the "test of courage" episode, the cultural festival arc, the Christmas arc, etc. But
Toradora!
manages to utilize these worn premises in new, dynamic ways that are sure to surprise. Even a common trope such as flat-chestedness, in which Ryuuji discards most of his masculine dignity to help Taiga's insecurity at the pool (and showcases why he'd earn an A+ in any home economics class), evolves via a twist in the episode's plot into one of the earliest emotionally charged scenes in the show.
But it is, in the end, the evolving relationship between Ryuuji and Taiga that takes center stage. Their verbal give and take is always fresh and original, and it is in this dynamic that the series takes its strength from. The pair complement each other to a T, with Ryuuji's practicality and low-key attitude the perfect yin to Taiga's abrasive, loud, and fiercely liberal spirit's yang. Each finds comfort in the other as well, as Ryuuji's paternal instincts being a support to Taiga, who's family life is nonexistent, and her consequences-be-damned attitude liberates Ryuuji from the pressure of having to always act so mature, the consequence of having to grow up too fast when the only parent at home acts like a 12-year old.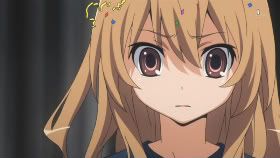 The supporting cast certainly doesn't disappoint either. Minorin may appear to be a wacky tomboy, but fail to pay attention and you'll miss the incredible subtlety that she can display in a scene. Meanwhile, the introduction in episode 5 of Ami, a transfer student, teen model and childhood friend of Kitamura, provides the perfect catalyst to really get the plot firing on all thrusters, as her outsider's status brings fresh perspective to the character relationships. She isn't without her own nuances, however, eventually becoming the "wise beyond her years, world-weary advice-giver" character that has become common in many shows in this genre.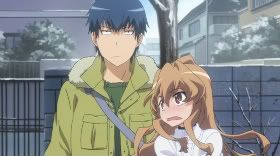 On the technical side of things, the animation will remind viewers of other J.C. Staff works, in particular
Ookami-san
and
HotD
. The character designs remain unique from character to character, but it's nothing especially eye-popping. Ryuuji's eyes are his most striking feature, and the animators remind you at every turn just how petite and small Taiga is, especially when the two are standing next to each other. Certain episodes dial up the quality in design, such as the Christmas party, which will make viewers sit up and take notice. As far as the musical score goes, it does the job it needs to do, being appropriately lighthearted during comedy bits, subdued during conversation, and rousing during dramatic scenes, never being obtrusive in any of them. The openers, "Pre-Parade" and "silky road" are performed by the three female seiyuu that voice Taiga, Minorin, and Ami, and the closer for episode 19 is a treat, as Taiga and Ami sing "Holy Night" at the close of the Christmas arc.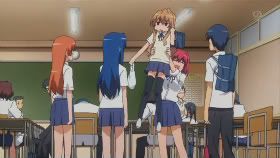 In the end,
Toradora!
does what most of its teenage romantic comedy brethren forget to do—let the focus of the show be its characters, and how their interactions help drive the story. If you have grown tired of the excess of schlocky, tepid rom-coms, let this show remind of how to do it right. If you want to see how execution in story matters, look no further than
Toradora!
.
9/10