What do you get when you mix
Toradora!
and a bunch of multicultural fairy tales? The answer can be found in
Ookami-san to Shichinin no Nakama-tachi
(translated:
Ookami-san and her Seven Companions
), or just Ookami-san for short. This anime, produced by JC Staff, is based off a series of light novels by Masashi Okita. It tells the story of the Otogi Bank, an exclusive high school club that helps students with various problems…for a price. This group's most prominent member is Ookami Ryoko, a spitfire of a tsundere and a boxing powerhouse. Her partner, Ringo Akai, seems to be the reincarnation of Little Red Riding Hood, but with a touch of evil loli syndrome to give her an edge. The third main protagonist is Ryoshi Morino, a shy, unobtrusive dude who suffers from scopophobia (fear of being seen or stared at) due to his upbringing as a hunter…y'see where these allegories are coming from yet? The Bank is rounded out by other characters who portray other various fairy tales and cultural legends from both eastern and western cultures.
The story itself has a fairly loose plot, in that its 12 episodes are mostly unrelated to each other, but still build plot and character development as it progresses through the story. The premise begins by Ryoshi being recruited into the Otogi Bank due to a shortage of male members. The boy also has a crush on Ryoko, and in a refreshing change of pace for stories of this nature in anime, he confesses his love for her in the first episode. Ryoko responds in typical tsundere fashion, blowing him off while underneath her rufftuff exterior she is flattered and embarrassed. Ryoshi seems to be quite useless at first, as Ryoko commonly refers to him as a bum. But Ryoshi's tracking skills are second to none, is a deadeye with a wrist-mounted slingshot, and promptly(after some motivation) reveals that he can come in quite handy when Ryoko is duking it out with a rival school's thugs, commandeered by a shadowy figure with ties to Ryoko's past…foreshadowing perhaps? (Uh, yeah…)
The remainder of the series is spent dealing with the everyday work of the Otogi Bank, whether it's helping someone win a beauty pageant, or playing matchmaker for a rich young boy. All the while, Ryoko and Ryoshi's relationship gradually reaches new levels, with Ryoko's recalcitrant heart being her true weakness. In fact, her tough exterior is a major motif of the show, which Ryoshi and Ringo try to tear down throughout the show, Ringo with her close bond of friendship with her, and Ryoshi with his steadfast determination to prove to her that he's capable of being depended on by Ryoko. In a twist of the old adage, Ryoko could be described as a "sheep in wolf's clothing". But it's the comedy that truly carries this show, with its skewed takes on old fairy tales giving it a refreshing vibe that seldom disappoints. The sight gags and in-jokes referencing the fairy tales themselves may take some research to fully appreciate, but it never reaches that level of
Sayonara Zetsubou Sensei
obscure.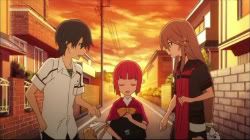 However, the series' one great flaw is that it simply doesn't know whether it wants to be a lighthearted rom-com parody of old fairy tales, or if it wants to be a tale of how one can rely on those closest to you when you can't believe in yourself. The series has some unexpectedly dark moments, which jar the viewer who is watching this show for the comedy and romance. The flow of the story switches too abruptly from witty, acerbic jokes about the flatchested heroines (usually commented on by the show's narrator, who starts to grate on the nerves after four or five episodes) to a shocking and heart wrenching tales of loss and inner trauma. The two elements, divorced from one another, would work just fine if they didn't have to interact with each other. However, the comedy does a good job of keeping the viewer from dwelling too much on the show's erroneously dichotomous nature.
The animation done by JC Staff is up to the standard of their previous works, but patrons of the studio will feel a sense of déjà vu, specifically if they've seen
Toradora!
. Ryoko looks too much like a taller version of Taiga for it to be a coincidence, but besides that, most of the characters are uniquely drawn and easily identifiable. The action scenes are well animated, fast and clean, with Ryoko's boxing skills on full display. The music is for the most part unobtrusive, but fans of May'n will be thrilled to hear her sing the show's opener, "Ready Go!," which is a delight to listen to.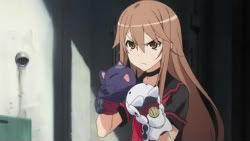 7/10
((I really tried making the images smaller on PB, but for some reason they don't get smaller when I put the IMG tags here. I think they're still within limits, tho. If I absolutely have to make them smaller, please tell me so I can tinker with it some more.))